Newly Released: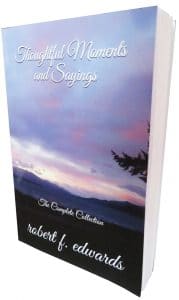 Thoughtful Moments and Sayings
The Complete Collection

This book contains not only some thoughtful moments of the writer, Robert F. Edwards, but the dates as well. For over 36 years, the sayings and dates reflect in some small way as a diary of the writer.
Nevertheless, if the reader takes any page and reflects on the dates; they can stroll back in their time of what was happening to them or the world around them.
To say that this is a record of 36 years of history would be totally misleading. However, it is somewhat the history of the writer and his thoughts on the date he wrote them.
There is no doubt whatsoever that some of these sayings, as well as the dates that they were written on, will have some meaning of a lasting moment for the writer.
Quadra Novelettes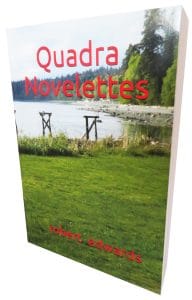 Like any sentence or book, it starts with one word and follows through in an orderly fashion. This book is no exception to the rule.
If you like a scary account, then you will enjoy 'The Bogeyman' at night in your bedroom.
'The Mannequin' is no exception to fiction at it's best, two mannequins in love and what happens to them.
'Murder on the High Seas'; the Mafia and a rag-tag group of eccentrics cruise the Atlantic amidst murder.
'Betrayal' is a love story that turns into tragedy.
'The Magician' is a delightful story of a young man who becomes one of the greatest magicians of all times.
'They Walk Among Us'; just ever day people, maybe your next door neighbour, but with a bizarre twist.
'The Old Sailor' is none other than a good ghost story. One can't help but enjoy the final outcome.
The Portraits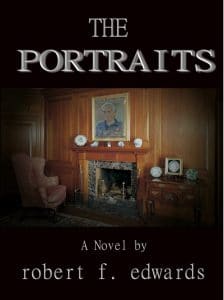 Oh Dear Readers, Now that you have read this book to the end, Ask yourself these questions. Are these experiences part of my past live? Am I being re-incarnated through the Portraits? Why am I able to visit different periods of life on Earth? Or, is Robert F. Edwards a good story-teller? Is this just another one of the many fictional books he has written? You could be right.

The Portraits by Robert F. Edwards
KINDLE:  CDN$ 10.80 to buy   
Available for download now
Grandpee and Coleman
A collection of Bed-Time Stories to be enjoyed by children of all ages.
With each story, some pure imagination, some based on real-life events, the author shares his thoughts on the many aspects of life that each child will encounter growing up.
In addition to being an enjoyable read, he hopes to pass on some valuable life-lessons that he has experienced, for the benefit of his grandson…and now to be shared with you.

The Red Carpet:
A Collection of Short Stories
Now read a collection of tales, inspired by the accumulation of a lifetime's event of one traveler. This collage of fictional tales is often based on true events, that the writer invites you to guess which have an element of truth, and which are fictional. He covers the realm; from boyhood dreams, to a young man's nightmares, to old men's terrors. His tales cover the four corners of the world, to interest every reader.
This assembly of 28 short stories begin with a love story symbolized by the Turkish dowry carpet, move on to a quirky Irish friar, a Spanish bull-fighter, knights of old, soul travel experiences, resistance fighters of Viet Nam, Chinese Moon cakes Festival, pubs of Scotland, and everything in between.
Let the tales unfold!


The Red Carpet: A Collection of Short Stories
by Robert F. Edwards
KINDLE: CDN$ 12.77 to buy   
Available for download now
A love story that spans the globe.
A young Egyptian boy of Moslem faith meets his life's destiny when introduced to a young Christian girl travelling from Poland. Their great love flourishes throughout their lives, despite the challenges they face, together and apart.
This Canadian author was inspired to write his first fictional saga almost a decade ago, when travelling through North Africa. Together with his back-packing adventures throughout Europe and Russia, these experiences all helped contribute to a novel that blends imagination with a seed of truth.

River of Life by Robert F. Edwards
KINDLE: CDN$ 11.19 to buy  
Available for download now
Birkenhead:

Novelettes Collection
Be transported through a fictional world of fantasy, of possibilities, from the present to the past, from murder and mayhem, to laughter and tears.
Indulge in the quintessential English country village mystery with Constable Tic.
Follow along on the adventures with the French Foreign Legion in Pinot Wine.
Share in the exploits of Captain Eggenbottom, a unique pirate, as he plunders the Caribbean.
The Warrior salutes the heroism of our First Nations people.

Birkenhead by Robert F. Edwards
KINDLE: CDN$ 9.99 to buy   
Available for download now
The Journeys
Join me on my ventures across every continent of this great planet: