I would like to say this is a true story and an exceptional rescue of 119 dogs. One of which would become a man's best friend know as Gus McGregor. But before I get ahead of myself in sharing my excitement of the arrival of Gus McGregor, let me tell you the story you may have seen in the news.
BC SPCA Rescue in Fort Nelson
The rescue started on March 12th of 2021, when the SPCA got a disturbing call about two trailers with many dogs being neglected. Four police and 3 SPCA agents came to the site. They expected anywhere from 20 to 30 dogs…. instead, they found 119 dogs. Once they discovered the terrible conditions that these dogs were living in and the neglect that they had been imposed on them, they immediately contacted backup help. One of them was the fire department. As the dogs were being removed from these deplorable conditions, some had scars on their faces, others had feces clinging to their coats and numerous ones needed medical attention. As the rescue continued, they rapidly found other districts that could help them with the rehabilitation of these dogs as well as future homes.
How We Adopted Gus McGregor
This brings us to Gus McGregor, formerly known as Griswald Fire Truck 2, which was one of the transportations that the fire department provided to get a good portion of these dogs down to the lower mainland. Many of them ended up in the Abbotsford accommodations and Gus McGregor ended up in the SPCA in West Vancouver.
This is where the story really begins with my wife Marietta and myself. We read the posting on one of the newsletters that the SPCA sent out. As soon as she brought it to my attention, we both agreed to try and find if we qualified to be sponsors to have one of the rescue dogs. She filled out a comprehensive application and we were hopeful that our application would be accepted.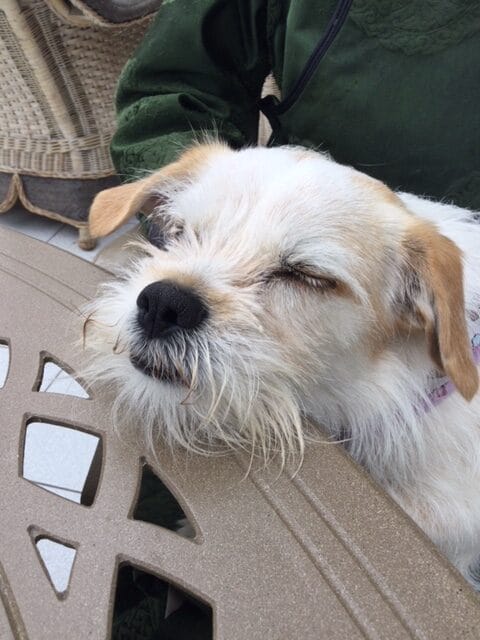 Gus McGregor was the perfect choice for us, he is a Norfolk terrier mix and the SPCA was looking for a couple with another dog, and luckily, we have Holly, a Cairn terrier mix. The next few days we were anxiously awaiting some form of result with our application, only to have the postings taken down. We were disappointed, but happy if the dogs had found more suitable accommodations.
The next day we got a surprising phone call from the SPCA. YES! Yes, we had been chosen for Gus McGregor. It was just the beginning. We had an introduction meeting with the foster parents that were looking after Gus and other dogs. Gus McGregor stuck to me like gum to a boot, we could not get enough of each other while Marietta was talking to the lady about the progress Gus McGregor was making in his adapting into normal life.
Incredible Work by the SPCA
The next day we qualified to adopt Gus McGregor, but he had to go to the dentist first which we thought was just cleaning his teeth, but no six teeth had to be removed. I would like to add at this point that I am very impressed with the SPCA; not only did they look after the grooming of the dogs, but they made sure that they were in good health before turning them over to sponsors. They all received a complete medical exam, were neutered/spayed, received their vaccination shots, were microchipped, and came with toys, food leash and harness, etc. All these expenses were covered by the SPCA, not to mention the transportation involved.
I am so happy to say that Gus McGregor Edwards is now officially our dog. And what a delight he has made to our lives. He is a happy little dog and loves sitting on your lap, going to bed with you and just cannot get enough love from everybody that comes near him. What a change from the deplorable conditions that he had lived most of his four years of life. In closing, I would like to say thank you to the SPCA for the remarkable job you are doing for the animals that need help so desperately.
Dear reader, I encourage you to visit the SPCA website through the buttons above to learn more about adoption and donating to the organization.
The Latest from Bob's Blog
The Cat of the House at Night

In order to give context to this tale and cats the fairness they deserve, we must go back 5,000 or 6,000 years. In Egypt, they […]

Day and Night

Today the days are getting shorter, and the nights are getting longer. The trees are showing as evidence that fall is in full swing, and […]

The Story of Ancilla

This story takes place in September 2017 and the country is Ghana. My journey started with a group of World Vision Ambassadors from Canada. We […]